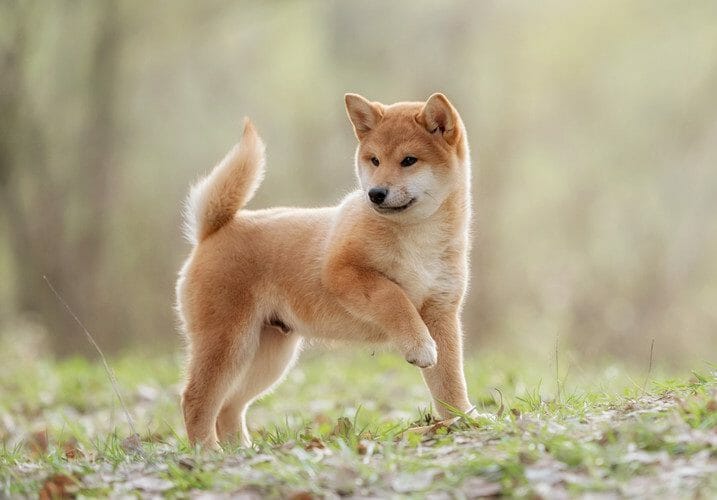 Personality Traits
As one of the oldest canine breeds still in existence, the Shiba Inu is an intriguing breed. First brought to America in the 1950s, these canines had previously coexisted with the people of Japan for millennia.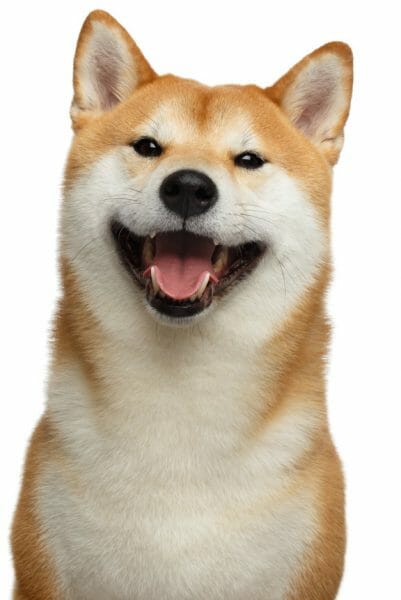 When it comes to this canine's unflinching personality type, it is often compared to that of their feline counterparts. The Shiba Inu can be standoffish and is often hesitant to befriend strangers. These canines may also take some time to warm up to its family members.
Both observant and alert, the Shiba Inu can be an effective watchdog. However, owners should beware as sometimes curiosity gets the best of these canines, and they may wander off and go exploring outside.
On another note, these dogs tend to be self-assured and confident. This trait can sometimes be to a fault, with Shina Inus often becoming overly stubborn. Constantly wanting to be the center of attention, a Shiba Inu must learn from a young age to obey commands. If proper obedience training is not conducted, Shiba Inus have a tendency to act out in obstinance when it does not get its way.
Owners should be aware that this breed will want to eat anything it sees. Therefore, owners must be careful not to let these canines overeat. Letting it have what it wants too often will reinforce its stubborn streak. Although Shiba Inus can be on the independent side, they can be sweet and devoted companions to their family members once they have accepted them.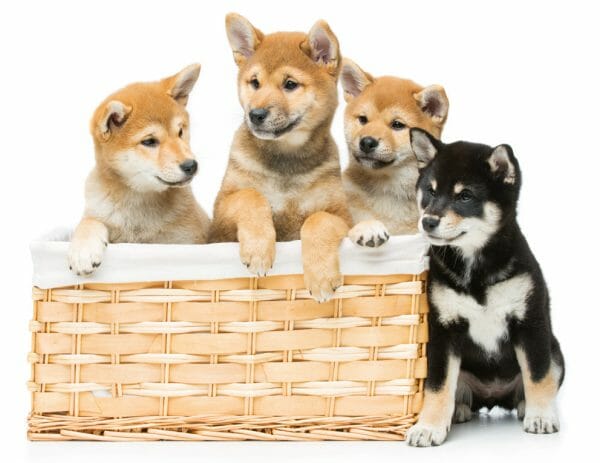 Shiba Inu Physical Appearance
In terms of physicality, the Shiba Inu has a small body that is densely sturdy yet athletic. These canines have a large head that features sparkling brown eyes, a long muzzle, and pointed, triangular ears. Many describe a Shiba Inu's facial features as similar to those of a wild fox. Its thick tail is muscular and curved over its back. A Shiba Inu often has a sweet and curious expression gracing its face.
Coat Type
Covered in a short, plush coat from its large head to its curled tail, a Shiba Inu's fur is quite poufy in appearance. The coat is always made up of two colors: a light color and a dark color. The darker color can be either red sesame, tan and black, or just red. The lighter creamy white color is present in every dog belonging to this breed and is found on the dog's face, ears, neck, tail, and undersides. The darker color can be found everywhere else.
Dimensions
Listed below are the specific measurements that correspond to both sexes of the Shiba Inu:
Height: This canine can grow to be between 13.5 and 16.5 inches at the withers.
Weight: This canine can weigh between 17 and 23 pounds on average.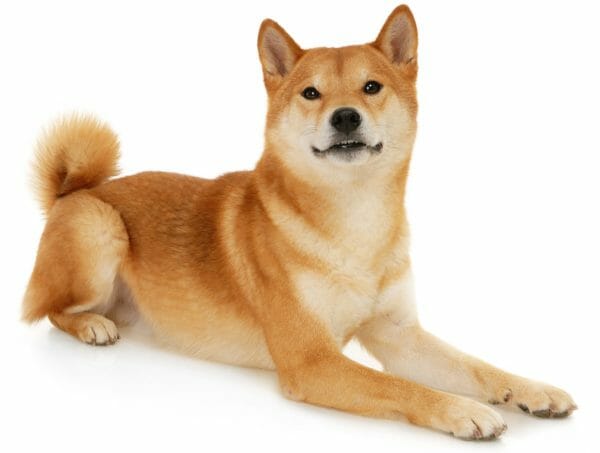 History of the Shiba Inu
In Japan, the Shiba Inu breed has been identified in ancient records and depictions dating all the way back to 300 BC. This ancient breed's genetics were originally developed with the intention of it being a hunter. Out of the six main Japanese dog breeds, the Shiba Inu is the smallest. The breed was used to chase game out of hiding into a line of hunters.
The Shiba Inu thrived on hunting in the Japanese mountains for centuries until the 20th century when World War II rocked Japan and all of its inhabitants, including this breed. By the time the war ended, Shiba Inus were on the brink of extinction. Just seven years after the war ended, a ravaging plague in Japan was yet another blow endured by the breed.
Light on the Horizon
In an effort to keep the breed going, Japanese breeders successfully came together and helped continue the line. It was not until 1954 that this resilient breed reached the shores of America. However, the first American-born Shiba Inus did not come about until 1979.
Americans soon came to adore this lovable pup, and its popularity became widespread. The American Kennel Club (AKC) recognized this popularity by bestowing official recognition upon the breed in 1993. To this day, the Shiba Inu remains a prized treasure in both Japan and the world over.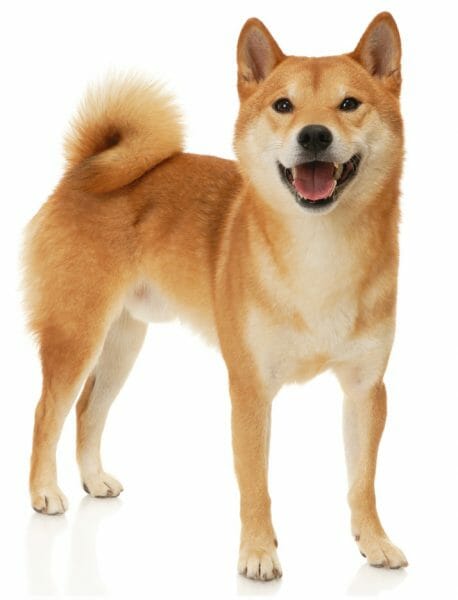 Facts About the Shiba Inu Breed
Listed below are a few fascinating facts about the Shiba Inu.
In Japanese, "shiba" translates to "brushwood" and "inu" translates to "dog." The origin or meaning of its name has been lost in time. Some speculate it could refer to its size, while others suspect it has to do with where the breed lived in Japan.
A Shiba Inu rarely barks. Instead, it "screams"—producing high-pitched "Shiba-screams" when excited or scared.
The Shiba Inu remains the most popular dog breed in Japan.
These canines are often described as escape artists due to their propensity to bolt and escape whenever the opportunity arises.
According to the AKC, this breed ranks 44th among the most popular dog breeds.
Caring for a Shiba Inu
Grooming Necessities
Possessing a thick double coat, a Shiba Inu is known to be a shedding machine almost year-round. Twice during the year, the shedding can become especially heavy. Although its coat does not get tangled easily, it is recommended to brush and bathe the dog frequently, if only to keep the excessive shedding down. Blow drying the dead hair off its coat is an effective way to curb shedding. However, caution should be taken in not allowing the blow dryer to get too hot for the canine. Many Shiba Inus seem to enjoy these blowouts.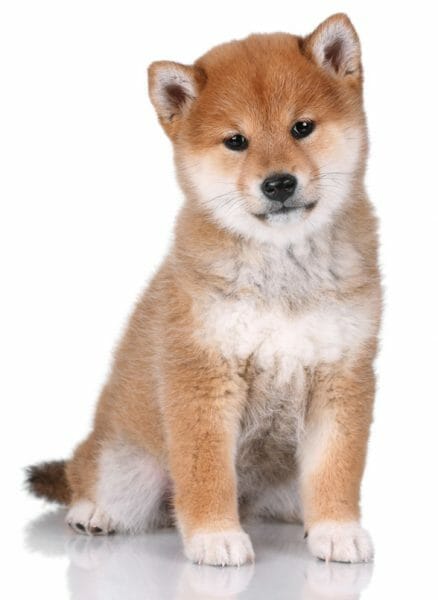 Exercise
Although Shiba Inus are not overly hyper, they need frequent exercise. Long daily walks are ideal. It is also important to note that this breed is prone to separation anxiety. Keeping these canines in a crate when it is left alone or at night is ideal. Otherwise, it may make a mess of the house.
Nutrition
Although some Shiba Inus will eat excessively, others may be quite picky. Either way, it is crucial to the dog's health to keep treats and table scraps to a minimum.  This is especially relevant due to its propensity for obesity.
Frequently Seen Health Problems
The average lifespan of a Shiba Inu is between 13 and 16 years. As with all dogs, Shiba Inus should see a vet for regular check-ups, receive all core vaccines (such as the rabies vaccine), and receive preventive medications for heartworm, fleas, and ticks.
As for the health problems seen in this breed, allergies are the most common. Luckily, these can be treated quite easily with some medications, such as Benadryl. Besides this, other common health issues include:
Eye disorders (such as glaucoma and cataracts)
Patella luxation
Hip dysplasia
Because of this, vets recommend Shiba Inus receive joint and eye examinations early in life.
More Information about Shiba Inu